Addiction is a complex brain disease characterized by compulsive drug seeking and drug use despite negative consequences. Recovering from addiction involves changing behaviors and beliefs in ways that lead to long-lasting abstinence from drugs and alcohol. In most cases, inpatient residential treatment offers far more advantages than outpatient treatment in terms of helping people achieve long-term recovery.
Here are the differences between inpatient residential and outpatient drug rehab, and how to choose the best addiction treatment program for you or your loved one.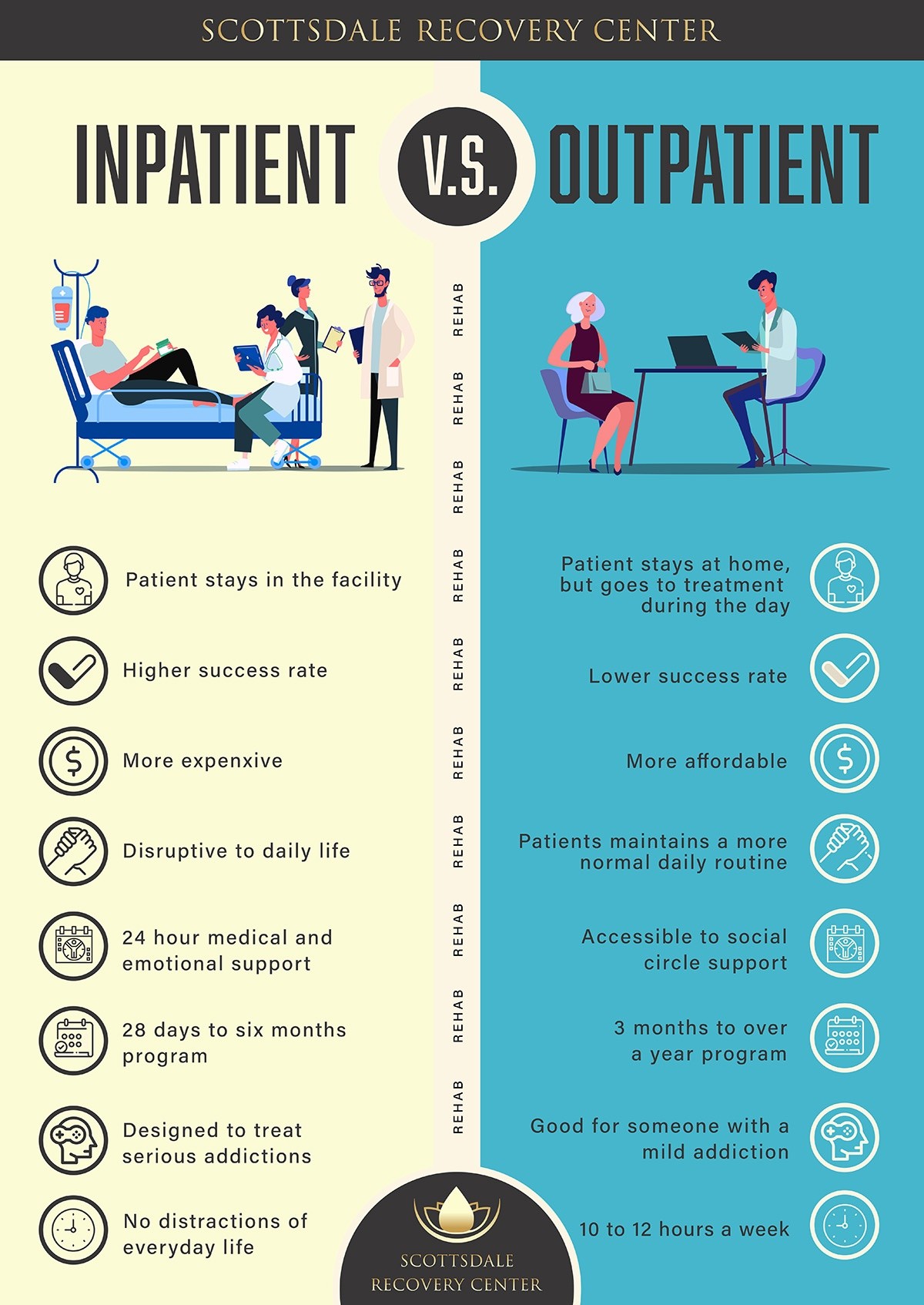 What Is Inpatient Residential Treatment?
Inpatient residential treatment programs offer the highest level of care for drug rehab. These programs allow patients to stay at the treatment center as they receive drug and alcohol detox and therapy. Inpatient residential programs usually last at least 30 days and can last for 120 days or longer, depending on the time needed for recovery. Patients who participate in these programs can benefit from daily structure and 24-hour support, monitoring, and medical care.
What Is Outpatient Drug Rehab Treatment?
Outpatient treatment programs offer the lowest level of care for drug rehab and recovery. This program allows patients to live at home and go to work or school while receiving therapy a few hours per week. Outpatient rehab is ideal for those who live in stable, supportive homes and who are highly motivated to stay abstinent. Patients may be prescribed medications that treat withdrawal symptoms and receive therapy consisting of 12-step meetings, substance abuse education, and relapse prevention training.
What Are the Key Differences of Inpatient Versus Outpatient Rehab?
Patients can live at inpatient rehab facilities, but when receiving outpatient treatment, they must live at home or in sober living communities.

Inpatient offers 24-hour medical care, support, and monitoring, while outpatient meets for a few hours per week.

Inpatient helps patients establish a structured daily routine, while outpatient requires patients to establish a new routine on their own.

Inpatient rehab removes patients from harmful environments and access to drugs and alcohol, while outpatient rehab requires patients to stay in their current environments and do their best to avoid drugs and alcohol.

Inpatient rehab offers a variety of therapies and therapeutic activities all day long, while outpatient rehab provides a fewer number of therapies for a few hours per week.

Inpatient rehab allows patients to focus on recovery without distractions, while outpatient rehab requires patients to juggle outside responsibilities and manage triggers while in recovery.

Inpatient rehab offers intensive care to those experiencing a psychiatric crisis or who need medical care for another health condition.

Inpatient rehab offers medical drug detox, while outpatient rehab may or may not prescribe medications to help patients manage withdrawal symptoms.
What Are the Advantages of Inpatient Residential over Outpatient Treatment?
Inpatient residential rehab and outpatient rehab programs both share the same goal of helping patients fully recover from substance use disorders. However, inpatient residential programs offer higher retention rates than outpatient programs. In 2012, SAMHSA reported that an estimated 55% of patients in short-term residential rehab successfully completed their treatment programs, while this percentage was only 37% for those in outpatient programs.
Inpatient rehab gives patients a safe, stable environment away from drugs, alcohol, and negative influences that may otherwise interfere with recovery. Inpatient rehab also provides 24-hour medical care to those in withdrawal and gives patients access to medications like methadone that relieve withdrawal symptoms and can only be used under close medical supervision.
Other advantages of inpatient rehab over outpatient rehab include:
Elimination of everyday stressors related to work, school, and family responsibilities.

No exposure to triggers that could prompt alcohol or drug use.

The opportunity to establish a healthy and structured daily routine.

Intensive individual and group therapy sessions.

Access to daily nutritious meals prepared by a gourmet chef.

A higher likelihood of completing the treatment program.

The opportunity to discover new hobbies and interests to replace drug and alcohol use.
How to Choose the Best Drug Rehab Program
If you are not sure which drug rehab program is most suitable for you or your loved one, Scottsdale Recovery can help. Our representatives are available 24/7 to answer all your questions about addiction treatment and to recommend the best rehab program. Contact us to learn more about our available drug rehab programs at Scottsdale Recovery and begin the treatment process today.
Talk to Someone Who's Been There. Talk to Someone Who Can Help. Scottsdale Recovery Center holds the highest accreditation (Joint Commission) and is Arizona's premier rehab facility since 2007. Call 602-346-9142.