Deciding which drug rehabilitation program will be more effective for your drug abuse problem can get quite challenging. The investment you are planning to make is tremendous and it does require you to explore the option that is best-suited for your needs and give the optimum results. Take a look at inpatient vs. outpatient treatment programs.
The effectiveness of drug rehab program is one of the major concerns among people who are weighing the option of getting rid of their substance abuse problem. If can be difficult to decide what works and what does not work.
As a matter of fact, you cannot predict your own success in rehab by taking clues from other recovering patients. In drug rehab, every case is unique. Each person has a different level of needs and addictive problems that require catering. What works for you does not necessarily works for another patient even if you both have the same substance addiction disorder.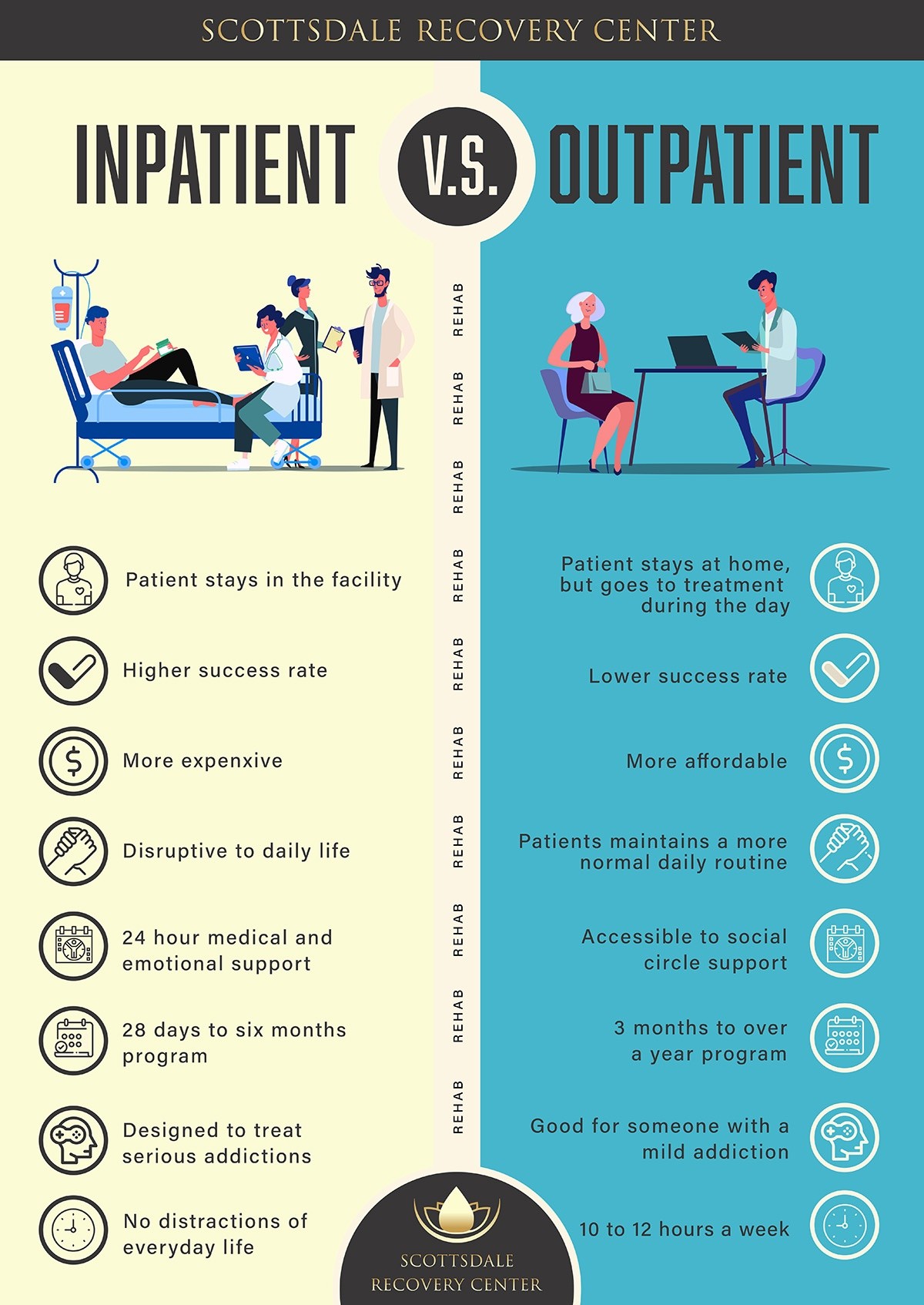 There are several factors that determine the suitability of drug rehab program for every case. It includes the type of substance used in abuse, the duration of addiction, the mental and physical health of the abuser, and rehab history. The effectiveness of the program is hugely dependent on your willingness to get over your addiction.
Both, inpatient and outpatient drug rehab programs, have proven to be successful in achieving increased sobriety rates. According to statistics provided by the National Institute on Drug Addiction, inpatient drug treatment leads the rehab programs in the United States.
73percent of the patients are found to have successfully completed the treatment, out of which 21percent have retained sobriety status for over five years. Outpatient drug treatment, on the other hand, showcases abstinence rate of 18percent. These statistics clearly denote that the inpatient and outpatient drug rehab programs are gradually modifying the drug facility success rates.
Inpatient and outpatient drug rehabilitation programs are designed to address different levels of addiction and preferences of the recovering individuals.
If you have a chronic alcohol or drug abuse problem, and you have previous unsuccessful attempts at rehab, inpatient or residential program will be more effective for you. Staying in the monitored setting with professionals out there to support you 24/7, inpatient drug rehabilitation program can bring you towards overcoming your drug abusive behavior.
Outpatient program, on the contrary, can be more effective if you have a strong support network (friends, family and coworkers) willing to help you get over your substance dependence, and you yourself are determined to get yourself out of the problem. Outpatient drug rehab is more effectual for mild level drug addiction and is an excellent option for aftercare (once you have completed your detox and inpatient program).
Conversely, both the programs have their fair share of pros and cons. These programs are analyzed underneath for you to get a more holistic point of view and get a better picture to decide which facility suits your need better.
Inpatient Drug Rehabilitation Program
Inpatient drug rehab program requires you to stay in the rehab center overnight for three weeks to ninety days, depending upon your nature and level of addiction, and health condition. This precise rehab program entails three major steps, starting from detox, therapies, and counseling, and ending on aftercare. The length of the program is based on the medical diagnosis, situations, insurance coverage and your personal health and behavioral needs.
Advantages:
The rehab center is monitored 24/7 by trained staff and medical and rehab professionals. You will get any help and support you want right away. You won't have to struggle alone with your addiction.
You don't have to feel singled out or stigmatized in the residential setting because others living with you are battling similar addictions.
During your stay, your ultimate objective is attaining recovery. There is no room for triggers and distractions. This allows you to get better control of your brain and behavior.
Inpatient rehab program offers a stable environment with consistent care and supervision that coerces you to change your lifestyle.
Group therapies and counseling educate you about your addiction and compel you towards analyzing your attitude towards drugs. This helps you develop a coping mechanism to deal effectively with your addiction.
Disadvantages:
You are restricted to the rehab center and have no control over your life to go and leave freely.
Your daily routine is scheduled out for you, outlining your sleeping pattern, meal timings, and everything that you have to do in the day.
It requires you to give up your social and family life to work solely on your addiction.
You have to give up your job, home and friends while under treatment.
You have to struggle with the payment as the majority of the insurers do not include inpatient treatment.
Outpatient Drug Rehabilitation Program
Outpatient rehabilitation program does not necessitate you to move into the rehab center for a prolonged period of time. You can continue the treatment without giving up your job or home. You are obliged to participate in the counseling sessions and meetings for a specific period of time. Outpatient rehab is effectual for patients who are freshly out of inpatient program.
Here are the advantages and disadvantages of the program.
Advantages:
It is a structured program that allows you to continue with your daily activities like going to work, living with family and having a social circle.
Particular hours in the day are assigned for counseling sessions. You can choose the one that suits your schedule better.
You can integrate the learned changes immediately in your life and get the help and support from the professionals to adjust better in those changes while still under treatment.
You can include your family and support network in the counseling sessions to help them understand your challenges better. This contributes to enhancing your family and social relations.
Outpatient is more reasonable and affordable than inpatient rehab program and is usually covered under insurance plans.
Disadvantages:
Despite under treatment, you are still living in the same influential environment that encourages you towards drug addictive practices. This increases the risk of relapse significantly.
You are still exposed to drugs and alcohol and have easy access to them. This makes the setting unstable for you.
Your daily activities may hinder your complete focus on recovery.
You cannot access your counselor any time. You have to wait until the next meeting session to discuss your problem.
What You Should Do
The first step towards recovery is making the decision that you need to get help to defeat your addiction. As Mark Caine said:
"The first step toward success is taken when you refuse to be a captive of the environment in which you first find yourself."
When you make the decision, it is important that you consult a medical or drug rehab professional to determine which program will be more effective for you. Proper diagnosis and analysis are extremely crucial in deciding which drug rehab program will be most suitable.
Scottsdale Recovery Center offers both inpatient and outpatient drug rehabilitation programs. You can contact us today to get a detailed overview of our services and success ratio. We tend to provide our clients with the best service in the country. With a diverse range of therapeutic offerings, we offer the most trusted substance abuse rehab available. We accept all payment methods, too.
Talk to Someone Who's Been There. Talk to Someone Who Can Help. Scottsdale Recovery Center holds the highest accreditation (Joint Commission) and is Arizona's premier rehab facility since 2009. Call 602-346-9142.