Luxury Drug Addiction Treatment Scottsdale, Arizona
There are many options for luxury addiction rehab in Arizona. Choosing a program for you or your loved one's recovery from drug and alcohol addiction will depend greatly on your choice of the facility. Scottsdale Recovery Center understands how important it is to realize your luxury treatment options and the type of addiction care you can expect to receive. Luxury rehab centers are not all created equally, Scottsdale Recovery Center is the original and experienced Arizona drug rehab choice for you or your loved one.
We provide a private and safe space for comprehensive addiction recovery services. Our addiction rehab programs are individualized, combining evidenced-based treatment with holistic therapies healing both the mind and body. The path to addiction rehab recovery is a challenging one, but with the right tools, an unimaginably great sober life is just right around the corner for you!
Customized Luxury Addiction Recovery Program
Scottsdale Recovery's mission is to help adults 18+  overcome their addiction to drugs and/or alcohol. Scottsdale, AZ is home to a handful of treatment facilities who claim they are luxurious and upscale drug rehab; however, few offer the following services in a private, beautiful, luxury Inpatient Rehab Facility.
We offer experienced addiction medical care 24 hours a day, 7 days a week for individuals seeking addiction treatment in a truly luxurious and upscale setting. Phoenix, Arizona is the home to our professional Intake Advisors, but many of our clients come to Scottsdale Recovery Center from all over the world. We are Arizona's premier luxury drug rehab facility since 2007. Alcohol treatment centers are not all the same, trust the leader and the best drug treatment in Arizona, Scottsdale Recovery Center! 1-602.346.9142
Cost of Addiction Rehab Treatment in Scottsdale, Arizona
Luxury treatment costs are varied depending on the types of drug treatment offered and the duration of the care received. While privately paying for services is always an option, and we have many people that private pay for our luxury rehab center, there are also other payment methods that may be available for you or your loved one. For some folks who chose to private pay, the reasoning behind their decision to pay in cash, credit card or check rather than use their insurance plan, is they don't want any record of a drug rehab addiction treatment in their medical / insurance history. That information is obviously protected by HIPPA and kept very confidential and private, by law. With that being said, some people still prefer not to leave a paper trail.
In addition to offering payment plans, financing options, and quarterly scholarships, many private insurance plans provide coverage for drug and alcohol rehab. Scottsdale Recovery Center accepts many major insurance carriers, including:
Aetna
GEHA
Humana
Cigna
United Healthcare
Blue Cross Blue Shield (BCBS)
Luxury Recovery from the Inside Out
Scottsdale Recovery Center provides the ideal, most luxurious treatment environment to begin your recovery from drug and alcohol addiction. Distanced from potential relapse triggers, you will find a wide array of luxury and upscale amenities to take advantage of as you progress through your luxury addiction recovery program. Scottsdale Arizona is the perfect location to get sober; our luxury Inpatient Treatment Homes are filled with many activities to participate in before or after your treatment schedule. Learn a whole new way of enjoying life clean and sober at a high end, luxurious drug rehab center. Private, confidential and serene.
Clients, as part of our holistic and healing approach, will also learn how to cook and prepare healthy meals for themselves and their families when they depart. Developing healthy lifestyle skills is as much a part of our recovery services as treating the actual addiction itself. Treating the mind, body, and spirit, along with our experienced clinical staff, has proven to be the most effective approach to luxury addiction recovery treatment.
Progressive treatments ensure Scottsdale Recovery Center is always on the leading edge of addiction treatment. Arizona boasts some of the best addiction treatment facilities in the country. Few offer the comprehensive services of holistic therapies, psychiatric services, individualized therapy, family therapy, education, and development of healthy lifestyle skills like Arizona's Premier Luxury Drug and Alcohol Rehab Center, Scottsdale Recovery Center. At Scottsdale Recovery Center, we provide the support and luxury treatment programs to beat your addiction once and for all, returning to a fulfilling, beautiful substance-free life.
If you are considering drug rehab in Arizona, there are a few things to consider including environment, inpatient vs outpatient setting, program philosophy, and staff on site. You might have questions about what exactly drug rehabilitation is and what can you expect from the program you decide on. All of these questions can be answered by speaking to a qualified professional at Scottsdale Recovery Center, Arizona's premier upscale and luxurious drug rehabilitation centers. With that being said, let us answer a few common questions to help you feel comfortable with the drug rehab process.
What is Luxury Drug Rehab?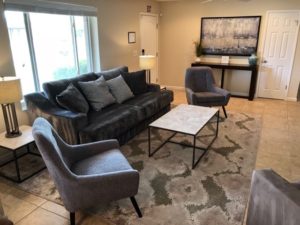 Going to our luxury drug rehab center means you'll have a team of people in your corner, helping you, and giving you the tools necessary to recover, for life. There are many pieces to recovery including intake, extended care, and luxury drug rehab addiction aftercare. It's a hard journey to enter sustainable sobriety and recovery, the things in life that are hard are the most rewarding. If you are seeking for a drug treatment center that looks beyond your addiction and treats the whole person, then it's important to consider the type of environment where you are seeking luxury drug rehab recovery.
What to Expect in our Luxury Drug Treatment Center?
When you walk onto the grounds of our luxury drug rehab in Scottsdale, Arizona, you'll immediately abandon all previous conceptions about what you think drug rehab is. You'll be welcomed by our staff and medical team, looking to get to know you as a person, not just as a diagnosis or a statistic. The serene and spacious grounds that highlight the beauty of Scottsdale ensure you feel truly at peace during journey into recovery and sobriety. Clients can expect counselors and therapists to assess your specific needs in order to determine what will work best for you and your exact situation. You are treated as a partner in the drug addiction recovery process, so the more open, vulnerable and willing you are, the more beneficial drug rehab in Scottsdale will be.
Types of Luxury Drug Rehab
Essentially there are two types of drug addiction rehab in Arizona: Inpatient and Outpatient. The best option for you will depend on the specifics of your illness, length of your drug addiction, type of insurance you have, the ability to cash pay if need-be and many other environmental and sociological issues pertaining to your drug and alcohol addiction. Many alcohol and drug rehab centers in Arizona claim to get high-end and luxurious. Please come take a tour and see for yourself why Scottsdale Recovery Center is considered the ultimate luxury rehab centers in the USA. We were the first in Arizona to offer a true luxury rehab center experience, our reviews and thousands of now sober alumni is our testament to the passionate addiction recovery work we do.
Outpatient Treatment (PHP & IOP)
Outpatient therapies include group and individual counseling and psycho-educational sessions that are proven to get folks sober, for life. Drug rehab requirements differ by location, but to increase the likelihood of completing the program successfully, clients receive therapy for a minimum of 20 hours per week at Scottsdale Recovery Center. 
Luxury Inpatient Treatment Arizona
Luxury Inpatient drug rehab therapy is often referred to as Residential Inpatient Luxury Treatment. Doctors and Nurses, including medical and clinical teams anytime care is needed. Additionally, our private and gated luxury drug treatment center facility is serene, calming and therapeutic. It's very important to consider what is best for you or your loved one. Often times, a beautiful rehab environment far away from relapse triggers and old habits helps the mind form new connections and makes  the road to recovery much easier for you. At SRC drug rehab, you will focus on your overall health rather than worrying about relapse triggers all the while enjoying a truly luxurious and upscale Residential Inpatient Drug Treatment Facility. Come start your journey into recovery and sobriety today!
Valued Living Means Quality Sobriety
When you redefine success in life and purposeful living, recovery from drug & alcohol addiction can become a heartfelt passion!
Have you ever embarked on something new in your life and all of a sudden an overwhelming sense engulfs you that something  special was awaiting around the corner? It's that feeling that seldom enters your mind but when it does, you instinctively stop and literally savor the moment. It's that very same feeling you wish you could bottle!
When we speak with graduates of the Scottsdale Recovery Center program, Arizona's leading luxury drug treatment facility for adults, this is usually how they describe that moment in time, early in their treatment process here at SRC, in which they began to feel a sense that a new reality in sobriety was entering their existence. That very same client who had been to countless drug rehab centers, and who had endured relapse after relapse while in the depths of drug or alcohol addiction, is now embarking upon a new way of thinking and an internal reality that speaks to a genuine sense of hope and impending success!
Creating lasting success in sobriety, recovery and life!

There are many reasons as to why nearly 50% of Scottsdale Recovery Center patients come to us from outside Arizona, but the number one reason has to do with our ability to help clients re-create passion for living within a framework of proactive sobriety. Whereas most residential treatment centers will repetitively pound in recovery into their client's ears, all with the underlying hope that this time will be different, we at SRC look at that approach and realize that sobriety stands no chance against the powers of active addiction with that type of linear thinking…sobriety without some sense of renewed passion and direction in life is almost always short-lived!
Perpetual relapse occurs in all age brackets, but more so among younger adults in their 20's, 30's and 40's, which is why the SRC approach works so well for this audience. We look not only at the clinical issues but at all prevalent matters within the patient's existence, both in terms of addiction and non addiction related. More importantly, we address each issue with realistic and actionable solutions.
We incorporate into the daily treatment process such added components as:
Life direction and pathways to passionate living
Primary components like career, education, family relations & dynamics, etc.
Creating realistic yet effort-driven benchmarks for success in life
A platform for creating new methods of enjoyment

Coaching and inspiring lasting change on physical, emotional and spiritual levels
Fostering both fun and serious relationships among others who are proactively in recovery
Creating value and a greater sense of self-worth within a sober, productive and centered way of living
SRC is not just another residential, inpatient or outpatient addiction treatment center…as is so commonly seen throughout Arizona. We prepare our clients to aspire for greatness not just in sobriety, but in all matters of life in which they have some element of control over. We strive to show them how to walk the great line of accepting that which must be accepted, and changing that which they have control over, all the while making the best of every situation and appreciating the gifts of life, health, love and success…
How Scottsdale Recovery Center can help
Scottsdale Recovery Center offers the latest in research-backed therapies. Luxury Drug Rehabilitation in Scottsdale, Arizona, stepping away from triggers and into a luxury environment increases the likelihood of long-term sobriety success and recovery for life! Scottsdale Recovery treatment plans utilize weekly assessments and client input to determine the best treatment outcomes. At Scottsdale Recovery Center you are more than your recovery and we treat you as we would treat our family! Luxury drug rehab center Arizona – Scottsdale Recovery Center for Luxury Arizona Addiction Recovery!
Ready to take control of your drug or alcohol addiction? Call us today to speak with an Intake Specialist who can provide you more valuable information about our luxury rehab center in Arizona. Call us 24/7 at 866.893.4806 and find out how yours or your loved one's story will change at SRC.