Scottsdale Recovery Opens Detox: Feature in Together AZ Magazine
Detox: the vital first step in the journey toward lifelong recovery. Drug and alcohol withdrawal can be agonizing, even life threatening. It is highly recommended not to detox on your own. Medical detox helps you safely and comfortably withdraw from drugs and alcohol. A successful detox is the difference between continued substance use or a lifetime of sobriety. The new state-of-the-art detoxification facility located in Scottsdale, AZ, ensures a medically monitored and safe detoxification process with highly trained and experienced medical, psychiatric and clinical staff. Clients' safety and comfort are essential during this time.
The length of time required to complete a medical detox depends on the type of the drugs that have been used, medical history of the patient, and level to which drugs has entered the system of the patient, which in turn depends on how much of it has been consumed, on average, detox should last about 14 day or less.
Creating the individualized detox plan takes into account all factors related to the person including physical health, history and length of substance use, family history, medical needs, and mental and emotional health. This comprehensive understanding ensures a more informed and effective detox plan. Detox by itself is not recommended to be a standalone solution and we are here to provide support every step of the way.
"The foundation to your recovery process begins here."
—Lee Yaiva, CEO
For immediate help call 1-888-NODRUGS and visit www.scottsdalerecovery.com
for more about recovery services they provide.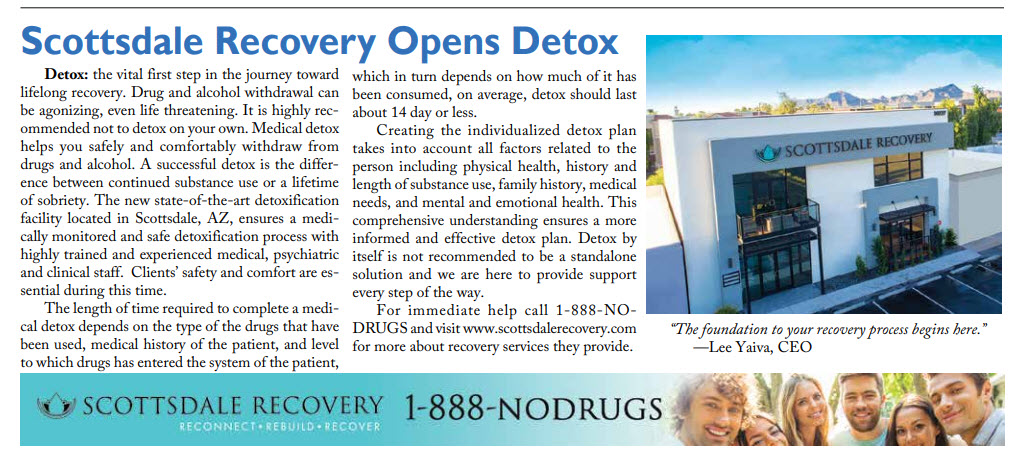 Talk to Someone Who's Been There. Talk to Someone Who Can Help. Scottsdale Recovery Center holds the highest accreditation (Joint Commission) and is Arizona's premier rehab facility since 2007. Call 602-346-9142.